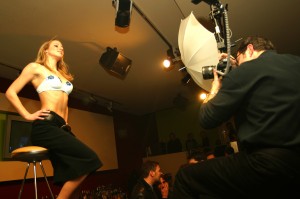 You've got the gig and now you have to play the part and act professional. Here is some advice on Model Etiquette, once you arrive at the set, be prepared to do what the photographer or set manager asks. They are spending both time and money to make a shoot look perfect. Providing a quality service could lead to more work. Over the years, I have found a few ways that can lead to call backs because the photographer was so happy how easy I made the job for him.
Arrive Prepared
Follow this list exactly before you arrive at the shoot. Your modeling career depends on both looking and acting like a professional. The first step is looking the part, the second is acting it.
Clean hydrated skin
Washed and dried hair with no product
Minimal to no facial makeup (Makeup artists and stylists will add their own)
Clean polished nails, preferably painted in a neutral or clear hue
Waxed and polished legs, underarms and bikini area
Use Eye Contact
Look at your photographer and others that are preparing your modeling shoot in the eye. Shake hands and smile and thank them for the opportunity. It doesn't matter if it is your first shoot or your 60th, showing appreciation never hurt anybody. State your name and ask for theirs. Memorize the photographers name and learn what you can about the photographer beforehand to make a lasting impression.
Get To Know the People on the Set
Speak up! Get to the shoot ahead of time and spend a few minutes talking to the lead set designer or photographer. Find out what look they are going for and what general poses you will be required to do. Just by showing up early and taking your job seriously will impress photographers.
Work While You Wait
Don't just sit there with a sullen face as artists work to get you ready –get involved. Interact with the makeup artist, ask what upcoming shoots they are doing or talk to the hair stylist and find out what future gigs they are doing. Talking to them makes you look more personable and gives you a chance to network for future gigs.
The main thing to remember is to be polite. If you are uncomfortable with a certain way of posing or a type of clothing you are modeling, talk to the stylist or photographer about it, but don't be a diva. Let them beg to come back instead of begging you to go away.