There are so many designers that need to be recognized because without them our fashion wouldn't be what it is today. They are what brings change to our wardrobes and inspire us to create our own look. They also take what they feel is transforming and changing  in our world and develop a piece of clothing that they hope we will adore.
One designer that is appreciated and very talented is Michael Kors. Kors began designing clothing at age 19 and since then has developed into one of the world's lead designers. In 1981 Kors launched the Michael Kors women's line in Bloomingdales, Neiman Marcus, and Saks Fifth Avenue, to name a few. His men's line was launched in 2002. Today Michael has many collections, including his runway collection. The MICHAEL line includes women's handbags, shoes, as well as women's ready-to-wear apparel. The KORS line contains footwear and Jeans. KORS is a cross collection between the runway and MICHAEL collections. Sounds like he stays quite busy!
Recently Kors came out with his fall 2011 collection. There were a few outfits that caught my eye in particular. I thought since fall time has officially arrived I could offer my advice on how to add the perfect accessories to Kor's select outfits. Check out the fashion board below and then lean more about the fashion accessories that can be the perfect touch to your new Michael Kor's runway clothing!
Left Outfit: Beaded Halter Top
Middle Outfit: Silk Marocine Scarf Neck Jumpsuit
Right Outfit: Grey Knit Dress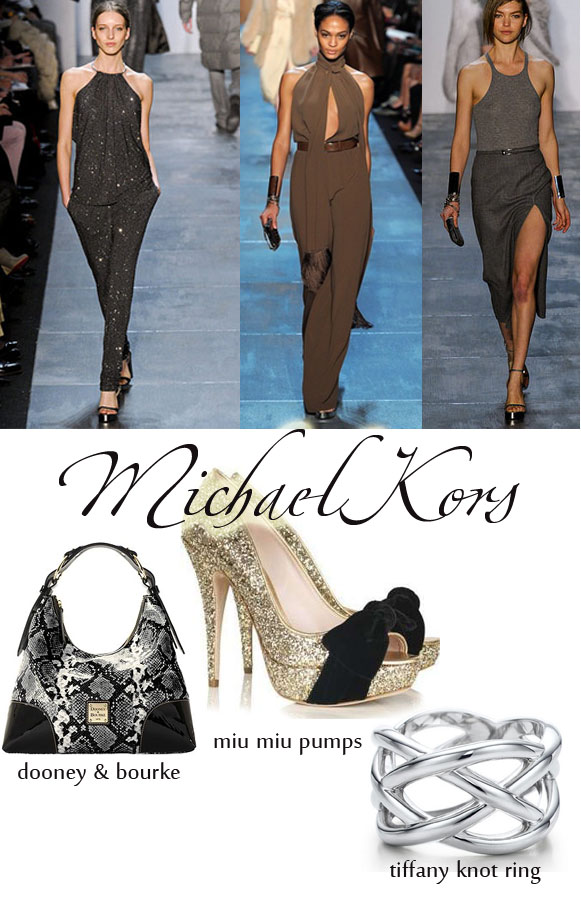 Dooney and Bourke Python Medium Nikki Bag – If you desire to make a sparkly dress like Michael Kor's Beaded Halter Dress really make a statement, purchasing something with a little bit of sass suddenly takes elegance to edgy. Discover a hand bag that has been calling your name and plan your outfit around it. Or, find the perfect Kors outfit and plan your outfit around his fabulous design. Either way an animal print handbag will create a fun loving mood and spark up instant conversation.
Tiffany Knot Ring – Most every girl loves a Tiffany ring, and adding elegance to your jumpsuit or grey dress will make you feel extra special. Tiffany doesn't stop with a knot ring. Of course they have diamond rings, bracelets, necklaces, and more. I wish I could run straight over and buy the knot ring myself!
Miu Miu Glitter Pumps – If you want to add some glitz and glamour to your style, Miu Miu pumps are the perfect way to accomplish this. If you're headed out for a client dinner or just a fun evening, Miu Miu Glitter Pumps will dazzle your friends and go beautifully with your new grey Kors dress.
So what do you think of the new Michael Kors collection? Fall time is here and there are many gorgeous outfits to choose from and Michael Kors is no exception. Please let me know what accessories you feel would go best with Kors Fall and Winter 2011 collection! I'd love to hear all about it.