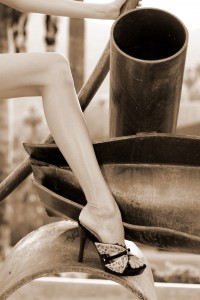 The Glass Slippers Perfect Fit
Do you love shoes so much that even the movie scène of; the Knight & shinning amour Prince rescuing the damsel in distress; Cinderella there after placing her glass slipper upon her gentle foot: makes your little green monster so envious of that perfect fitting sparkly shoe?
Well if that's you as well, don't worry your among so many people obsessed with gorgeous fabulous shoes, including myself. I love shoes so much that the first thing I look at when I meet someone new  is there shoes, then there fashion, then lastly but certainly not least there face providing eye contact. Or if I see a woman wearing some absolutely lavish decadent heels, I will stop her to ask; wear she got her fabulous shoes. It's a fact that woman wear fashion for other woman it's like a sport or a competition among us to look our best.  I found that 98% of woman will be happy and feel that it is a compliment when you ask where they got their shoes; it's like a reassurance that they have great taste in fashion. So if you find yourself curious about those killer shoes, just ASK!
I have skinny long narrow feet, a lot of the famous Italian Designers like Manolo Blonc, Christion Lobiton, Chanel and etc. Don't have a size to fit me, they only go up to a size 41 (which is a small USA 8 1/2- 9) and I'm a size N10USA, or when I do find one long enough it's so uncomfortable I can't be in it for more than 10 minutes or a walking length of a runway for a fashion show. This is a horrible dilemma, especially since I love their designs and creations.  I know so many other people not being able to wear their shoes from other similar reasons. 
In conclusion you can be like Cinderella too, and have your very own perfect fitting slipper. What is so great about these companies?  I found they not only do a custom fit for your foot, but in addition you get to design your own shoes.  Your imagination is your limit, any color, any style, any heel size, any texture, its endless!
A Dream come true!
"I don't know who invented high heels, but all women owe him their soul!" (Marilyn Monroe)
I share with you these wonderful Companies;
Milk and Honey Shoes
Shoes of Prey
Nina Shoes
Atelier Shoes
The Heel Condoms
Duo Boots
Shoes 4 Stars
Give your Thoughts, Questions & Answers below, its greatly appreciated as well as valued;
After you designed your shoe from one of these sites, please share your masterpiece with us. Post your picture below in your comment.
What are some of your problems finding shoes to fit?
Was there a time you stopped someone on where they got their shoes? Tell us your story.
Thank you so much for reading my blog, I appreciate you!